Caring Cutlery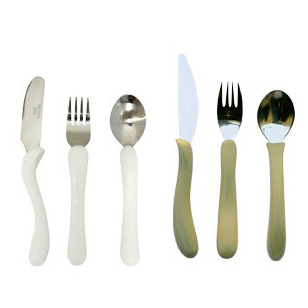 Caring Cutlery
Product Code
CARINGCUT
Avaliable On DVA
Avaliable On TAC
The Caring Cutlery are stainless steel utensils moulded into contoured plastic handles with built-up ends, ideal for those with a weak grip or restricted movement. The knife and fork have a shaped indent on the top for the index finger to help with directional control, and the knife also has a serrated blade to assist with cutting.
$13.00 – $53.20
Features
Hygienically sealed
Easy to clean
Dishwasher safe
Length of handle 127mm
Shipping
Flat Rate Shipping
$20.00 = orders under $100.00
FREE shipping = orders over $100.00
(These rates apply to online orders only)
Provided your items are in-stock and payment has been received, we will dispatch your order from our warehouse within 1-2 business days. Shipping within Australia will take approximately 2-7 working days depending on what state and/or territory you live in. If an item is out of stock, we will back order it for you.
Once your order is shipped you will receive an email confirmation of your shipping details which will include a tracking number. We will dispatch your items by Australian Post E-parcel or courier by our discretion, depending on the article being shipped.
Please Note: International shipping is not available

Printer Friendly
From our Customers
"Staff were very helpful
and prices are fantastic."
- Matt Beamish