Leckey Paediatric Equipment
Leckey's paediatric range is both innovative and clinically superior. Leckey equipment all undergoes extensive clinical and usability trials with therapists, users and their families, ensuring they are posturally supportive and family friendly.
Here at GMobility, we are proud to offer Leckey standing frames, walkers and activity seating. The entire range is available in various sizes and multiple kid-friendly colours with machine washable covers. Learn about a few key products below: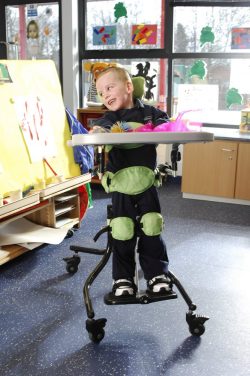 The Leckey Squiggles Stander is a colourful, comfortable and supportive stander system, designed for children between 1-5 years old. The Squiggles is a 3-in-1 stander, which offers upright, prone and supine standing, and features an extra supportive sternum pad which allows extension and freedom of the arms. It is easy to disassemble for transport or storing away and has machine washable covers with multiple bright, fun colours to choose from.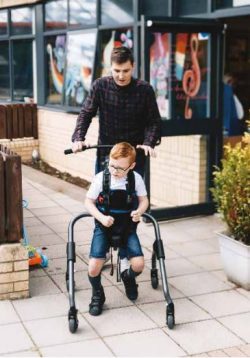 The Leckey MyWay is an upright walker, which is designed to provide children with maximum opportunities for independence, freedom, choice and movement, in a safe, supported upright position. The MyWay features Leckey's revolutionary patented harness support system, an open-frame design for maximum movement and multi-directional castors. The MyWay's open-back design allows for therapists to get in closer, and work with the child's lower limbs while in use.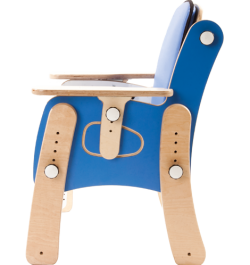 The Leckey PAL (Posture + Attention = Learning) is fun & colourful, comfortable, seating system, providing mild support for children ages 1-12 years. It has a two-point lap belt, as well as side pads to provide lateral stability. This chair has height adjustable armrests, footplates and legs, as well as a variety of other accessories available, including attachable table, castors, rockers and stabilisers.
To learn more about the Leckey equipment we supply or arrange a trial, please get in contact with our team via email or on 1300 00 GMOB (4662).
If you require more assistance in choosing the right equipment to suit your needs, contact our team today for more information. You can call us on 1 300 00 4662 or send an email to info@gmobility.com.au.