February Clinical Education Date Change
Please be advised that we've had a date change for our February session due to an unforeseen scheduling conflict. This session will now run on Thursday, February 13th, 2020.
Join us for this exciting clinical education session, The Manual Wheelchair: From Assessment to Delivery, presented Permobil's Clinical Education Specialist, Rachel Fabiniak.
This full-day intermediate-level course is designed to take the therapist step-by-step through the process of procuring a manual wheelchair for their client. The course will follow along a case study throughout the day from the assessment through the delivery.
The course will begin with a look into the questions and information required in the assessment and how that information guides the type of manual wheelchair selected for trial. This intermediate-level course will focus on active manual wheelchair users utilising rigid manual wheelchairs and the difference in frame designs and the impact on the ride and comfort of the client. The course will then break down the trial. What measurements should be taken? How do those measurements affect my client's position and function? Then, we will discuss the accessories on the chair. Once we have the frame decided, what do we put on this frame and why? The wheels, tyres, backrest, etc… can all have an impact on our client from propulsion to their function and independence; it is important that we understand the how and why, so that we can help guide the decision along with our supplier and client. The course will end with a look at what should be happening once the chair is delivered. In many settings, there may not be an opportunity to attend the delivery, but it is crucial that we understand the delivery process and can help prepare or guide our client through this process. At the end of the course, participants will feel more confident in their role and participation within the procurement process for a scripted manual wheelchair.
This advanced clinical education session will be best suited for occupational therapists and physiotherapists.
Upon completion of this training session, attendees will receive a certificate of attendance.
Morning tea and a light lunch will be provided.
Please note spaces are limited so please register early to secure your spot – REGISTER HERE!
About the Presenter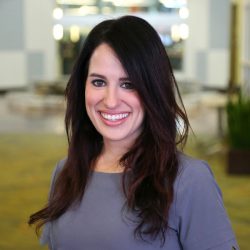 Rachel Fabiniak received her Doctorate in Physical Therapy from Emory University in 2013. Rachel joined Permobil in December 2017 as a Clinical Education Specialist for Australia and New Zealand. Prior to Permobil, Rachel was a physical therapist in the Spinal Cord Injury Day Program at Shepherd Center in Atlanta, GA.
If you require more assistance in choosing the right equipment to suit your needs, contact our team today for more information. You can call us on 1 300 00 4662 or send an email to info@gmobility.com.au.