Daily Living Christmas Gift Ideas
At GMobility we have a range of daily living aids, that would make great Christmas gifts, including household aids, kitchen utility, crockery and cutlery. Learn about a few of our top picks below, and visit our website or showroom to view the full range!
The Uccello Tipping Kettle is a lightweight, power pouring kettle, designed for individuals with restricted strength and mobility. It has a non-weight-bearing 'tilt and pour' action from the ergonomically designed handle. The weighted base of the kettle arcs on a rotating axis to deliver hot water safely and steadily to the fixed position of the cup, without removing the kettle from its cradle, reducing the risk of burns.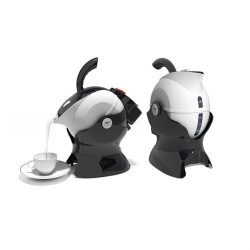 The Homecraft Pick-Up Reacher is lightweight and wear-resistant, designed to aid those with restricted reach. It assists individuals with picking up low items without bending over, or reaching higher items without a step-stool. It features a single moving jaw, operated with a trigger action from the comfortable handle which is large enough to accommodate all fingers, and can be rotated 360 degrees to avoid the need to rotate the wrist.
The One Touch Automatic Can Opener is a hands-free automatic can opener, which swivels around the can and switches itself off automatically, leaving the lid easy to remove without sharp edges. It has an inbuilt safety measure whereby it does not turn on or start working until it is placed on top of a can, reducing the risk of accidental injury significantly.
The One Touch Automatic Jar Opener helps prevent twisting, pulling and pain by opening lids at the touch of a button. Simple to use, just fit the jar opener over the lid and the rubber jaws will automatically adjust to the lid size and securing in place before rotating itself to release the lid. Once complete, you can simply remove the jar opener by lifting it off the jar. Suitable on all lids from 30mm to 88mm – even new, factory sealed jars.
View our entire daily living range now!
If you require more assistance in choosing the right equipment to suit your needs, contact our team today for more information. You can call us on 1 300 00 4662 or send an email to info@gmobility.com.au.